Blog:

Sal's Blog
Please note: This blog will be updated as time and Internet access permit.
April 6, 2010
Today I went to Tampa to look for new shoes, and decided while I was there to head over to the photo store, North Tampa Photo @ www.tampaphoto.com. Since I had to have my camera sensor cleaned, I thought it would be a good excuse to check out some nice toys! The folks are very helpful there, and always seem to get you just what you need at a good price. (NOTE: Need sponsors, money tight!) After drooling over the nice toys, it was time to head back to work on the site, and work on obtaining potential sponsors.
Thanks for reading! Sal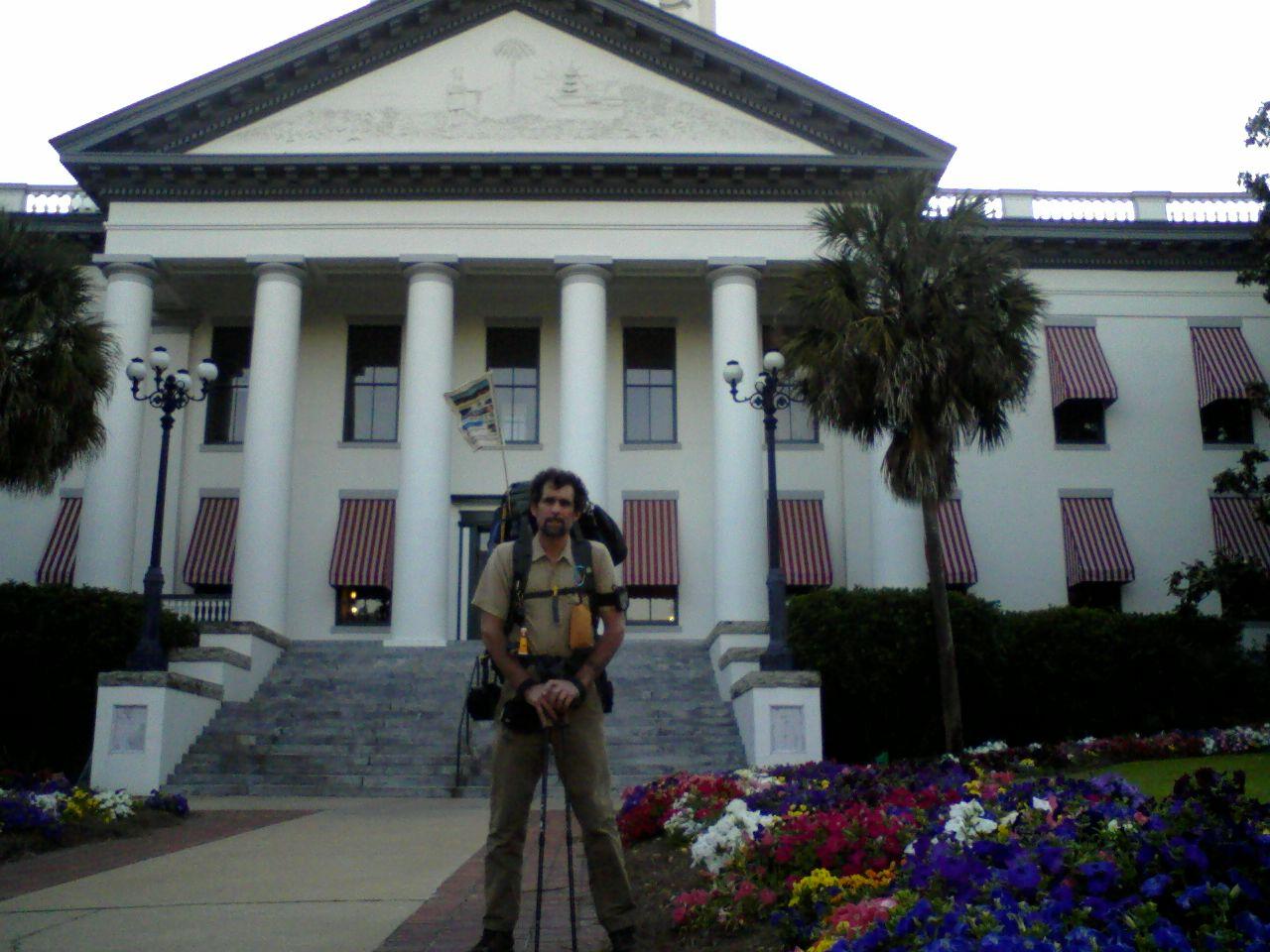 Sal - State Capitol, Tallahassee, FL
Friday, April 23,2010 Sal's Update - Day 13
Today, as I was walking west on US Hwy. 90, I stopped to ask for some water from a very nice ninety-five-year-old lady named Myrtle. Myrtle has lived in the area for fifty years, and had a nice home. She also has property and rents land to people for their mobile homes. She gave me four glasses of water with ice. After chatting with her briefly, I continued west on US Hwy. 90.
After walking for a while, I decided to stop and have some rice and noodles, flavored with salt, pepper and butter flavor. As I was getting setup and started cooking, I noticed there were a lot of ticks (the very small ticks) in the immediate area. So while the food was cooking, I decided to move all my gear and de-tick everything, and then I moved to the road to finish cooking and eat my late lunch. It took quite a bit of additional time from me, but it was also good to eat a lot of hot food.
After lunch, I continued on and met a nice man named Clarence Evans who gave a me a hand in finding the local post office and library. We talked for a bit, and he also gave me a $5.00 donation toward my cause, some water and some Gatorade. While I was at the post office in Quincy deciding on what items I was going to send back home (my starting pack weighed in at a whopping 47 pounds!), I managed to lose my cell phone. Once I got to the library, I called Clarence and he had my hiking poles, but not my phone. Clarence then drove to meet me at the library and once he got there, he tried calling my cell phone. The person that answered had apparently taken it from the post office. I didn't even see that happen. When I went back to the post office to see if the phone was there, I talked to Postmaster Greg Tidwell. Greg called my cell phone, (meanwhile Clarence had already talked with the man who took the phone) and Clarence was on his way to get the phone. Once Clarence had the phone, he brought it back to me and invited me to spend the night where I could shower and get cleaned up. I ended up spending the evening with Clarence and his wife.
Since Clarence lives about six miles back the way I came, he offered to drive me back to the spot where I left off in the morning. Thank you both for your kind hospitality!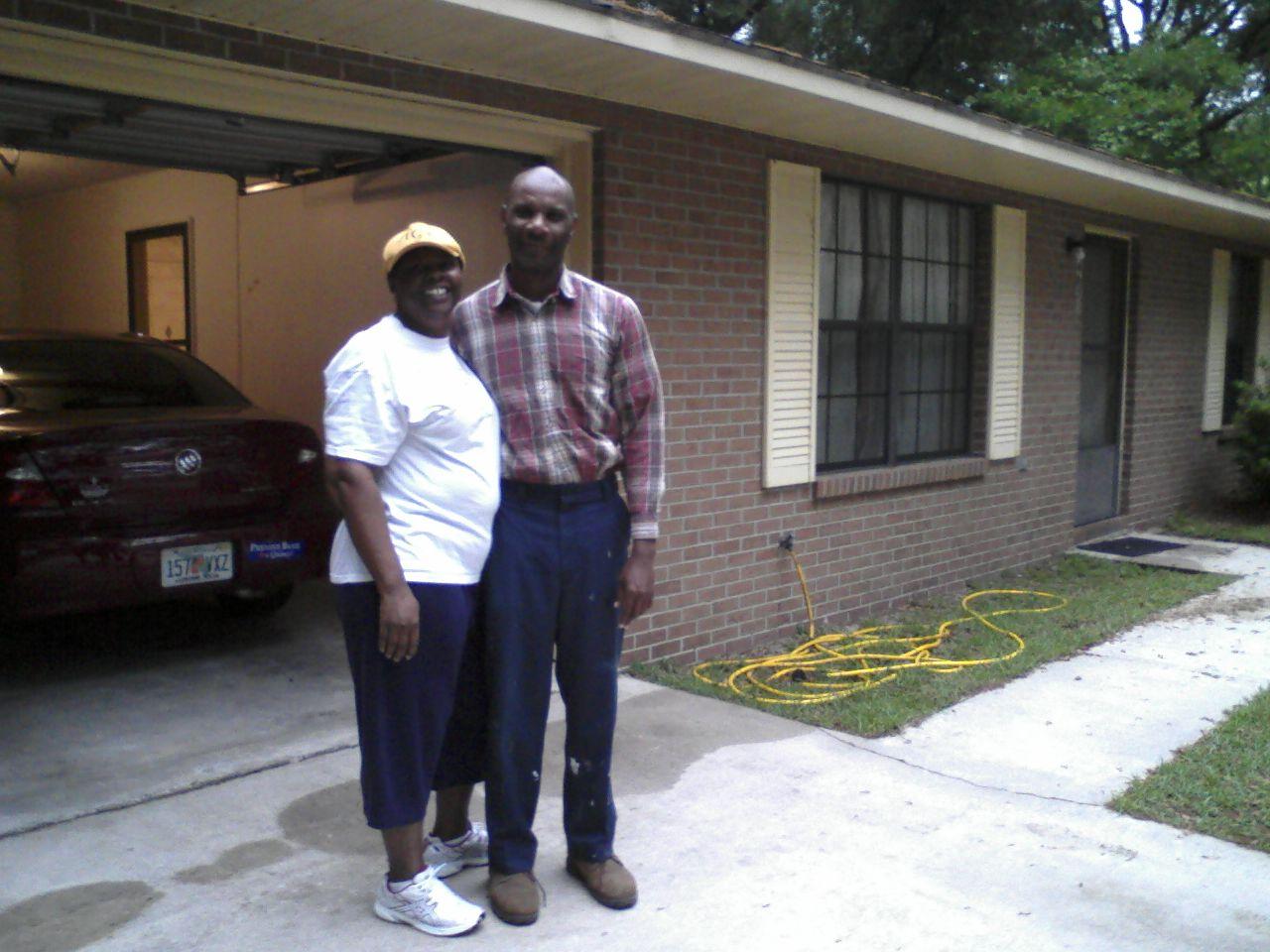 Mr. & Mrs. Clarence Evans
Saturday, April 24, 2010 Sal's Update - Day 14
This morning, as I was leaving Quincy, Clarence dropped me off at Wal-Mart near I-10. I began walking down the expressway, and as I was nearing the next exit, a state trooper picked me up and drove to US Hwy. 90, about 3 miles. As I headed west on US Hwy. 90, I arrived in the town of Gretna, FL. I decided to stop in to a local Dollar store. After I left the store, I continued on in Gretna. It was there that I ran into Clarence's wife Barb (I believe).
I continued walking for quite a few miles, and just outside the town of Chattahoochee, I walked up to the Holy Cross Catholic Church to use the restroom facilities. Apparently, there was a birthday party going on, but the water was off due to a lightning strike hitting the well. While I was there, I handed out some cards, and then continued on my way.
As I was walking further down the road, about five miles away, there was a lady who drove by. She turned around, stopped and offered me a big plate of food, and a drink. As it turns out, she she had just left the church that I stopped by. She was a very nice lady, and I am sorry to say that I did not get her name. But, thank you...the food was very good!
I arrived in Chattahoochee, FL around 7:45 p.m. I had wanted to stop by the library, but they were closed by the time I got there. I headed further into town and decided to stop by a local bar to ask if a band was playing, but there was not, so I went to the Dollar store for a little while, and then went back to the bar as they were going to have a birthday party for the owner, who was going to be 21. I stayed around for about 4 hours, handed out cards, talked to a few people, and had a beer or two. I left the bar to find a place to sleep. I walked down to the end of town where there was a police officer who asked me what I was doing. I told him the whole story and that I was looking for a place to sleep. He said that I could just set-up under the awning of a hotel that had a fire. I looked around but it didn't appear to be a good place to sleep. So I walked down to the bar and across the street was the Florida State Hospital. Since there was a picnic area, I laid out my air mattress to try to get some much-needed sleep. But, by that point, a storm had moved into the area. Sleeping was a bit difficult since the wind and rain were blowing pretty hard.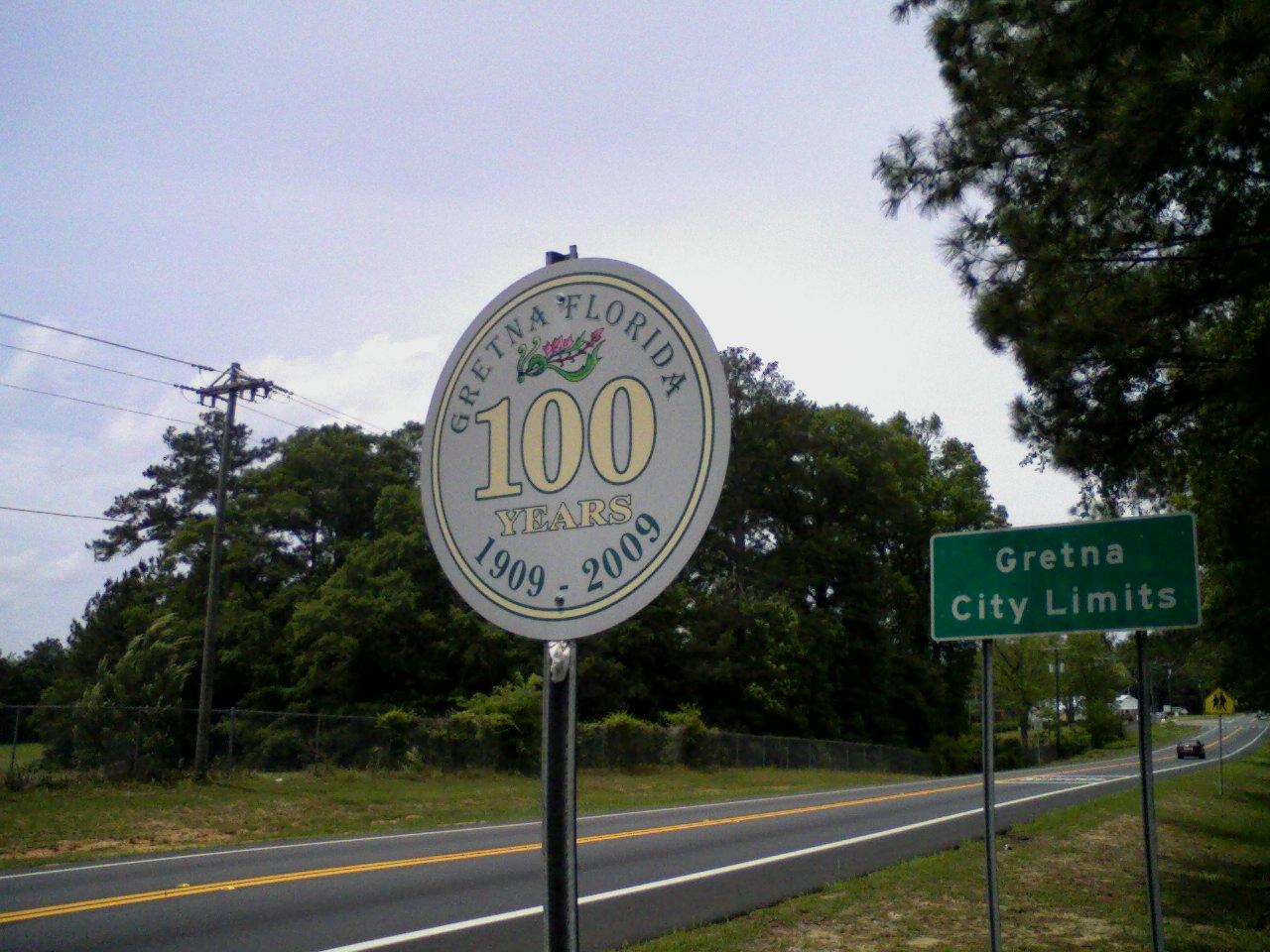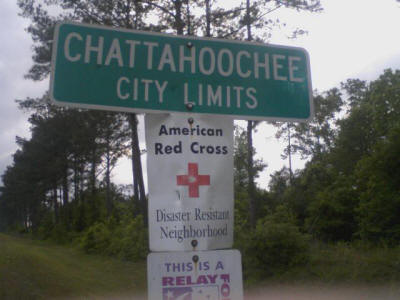 Gretna & Chattahoochee FL - Saturday, April 24, 2010
Sunday, April 25, 2010 Sal's Update - Day 15
This morning, when I got up, the storm from last night decided to stick around for a bit. Rather than attempt walking through the rain, I decided to wait until the rain passed through before heading out. Considering the delay due to the rain, I still managed to make good progress today. Today, I went through the small towns of Sneads and Grand Ridge, FL continuing my walk heading west on US Hwy. 90, making my way toward the town of Marianna.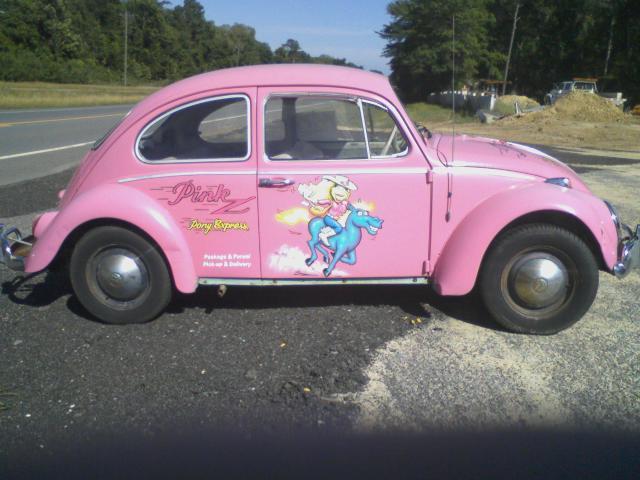 Pink VW Relic, Grand Ridge, FL ;)
Monday, April 26, 2010 Sal's Update - Day 16
I got up at 5:00 a.m. this morning and was on the road by 6:00 a.m. heading to Marianna, FL. I also wanted to head to the Florida Caverns State Park but I also had to get to the local Wal-Mart located on I-10, and then walk back to town. While I was at Wal-Mart, the local newspaper in Marianna called me and wanted to interview me about my cause. I headed back to town to meet with Staff Writer, Deborah Buckhalter. The interview went well, and Deborah was a very nice lady. After the interview, I left and did walk by the state park, but realized I would not have enough time to visit, since it was getting late and I needed to get in about ten more miles and find a place to sleep for the night. I camped out on the side of the road about 3 miles in on Hwy. 73 south of US Hwy. 231.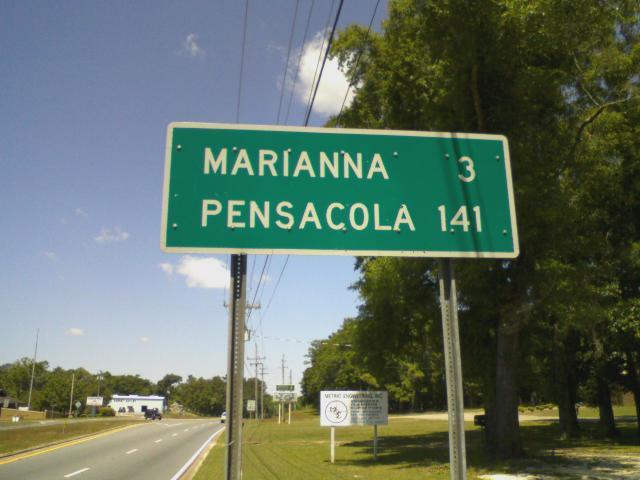 Almost to Marianna, FL!
Tuesday, April 27, 2010 Sal's Update - Day 17
This morning, I got up at 6:00 and was on my way by 6:30. I was about six miles south of County Rd. 162 and US Hwy. 231, when my cousin Nicky Pascarelli-Mathews began texting me on my phone. It turns out that she lives in the small town of Graceville, FL and she was wondering if I was going to stop by. I didn't know that she lived here before now. It was great that she called, since I needed a place to get cleaned up and do some laundry, and she offered to come by and pick me up.
I ended up spending the night with her and her family, where we spent a great deal of time catching up, and talking about the home they are building. After taking care of what needed to be done, I had a really good dinner and got a great night's sleep. It was so nice that Nicky was on my route...it was well needed and very much appreciated!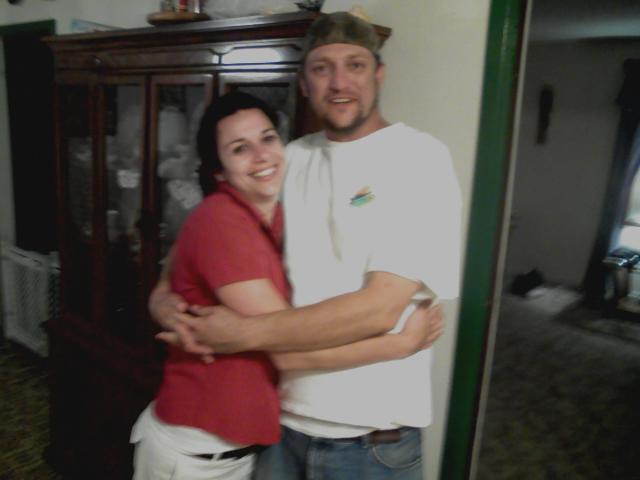 My cousin, Nicky and her husband, Earl.
Wednesday, April 28, 2010 Sal's Update - Day 18
After getting a decent night's rest, I was up by 6:25. Nicky made a great breakfast of ham, eggs and toast. A big THANK YOU to both Nicky and Earl for your kind hospitality...you are a lifesaver! Love you!
As I was walking in to Dothan, AL I stopped at Wal-Mart to get some things I needed. The store was just outside of Dothan (store #2534 Manager Annie Howard - Phone # 334-702-1310). While I was shopping around the store, one of the managers stopped me and said that I was supposed to have my backpack checked-in by the door greeter. I told him that in all the stores I had stopped at, this store was the ONLY store that had ever said anything to me about this, and that it wasn't nice he said this. After I said this to him, I walked away to finish getting what I needed, so I could be on my way. Before I left the store, I stopped and mentioned what had happened to another Assistant Manager, as well as the Door Greeter. They both said he was in the wrong by saying what he said. After a nice chat with them, I handed them a card and left. I also made my way to the local library today, so that the updates could be done. The library charged me a fee of $1.00 for 2 hours of Internet access.
After my stop at the library, I headed towards downtown again, where I walked to the local newspaper & TV station and dropped off some business cards for the hike. Most of Dothan's downtown businesses have moved to the outskirts of town, near the main drag that goes around Dothan including most of the restaurants and retail stores, leaving the library, post office, police department, and jail in the immediate downtown area. There are very few retail establishments--mostly industry such as auto dealerships, auto repair shops, and a few retailers.
After I walked through the downtown area, I headed north on US Hwy. 231 which took me took me to the outskirts of Dothan. Business Route 231 and Alternate US Hwy. 231 pretty much loop around on the north side. During my walk, I stopped and spoke with several people. I continued on for another three miles or so and decided to stop in to the local Best Buy to look at laptops. After browsing and weighing whether I should purchase a laptop for the hike or not, I made the decision to not do it at this time. I left Best Buy, heading north out of Dothan. Before crashing out for the night, I stopped by the local fire department to charge my cell phone, and found a place to camp out for the night not far from the fire station. Today I walked for 26 miles.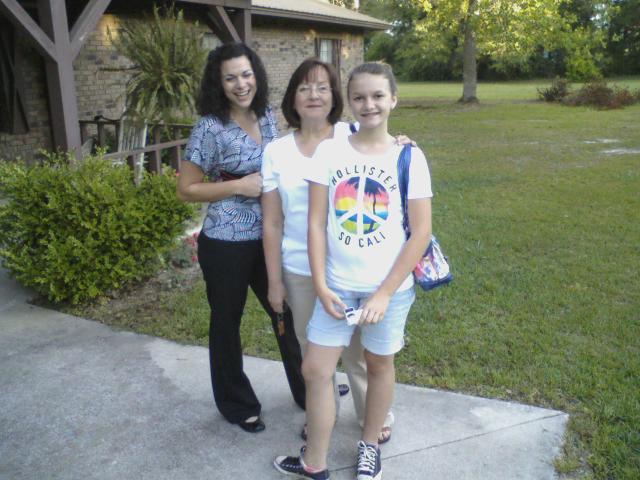 My cousin Nicky, her mother-in-law, and Nicky's daughter, Gianna.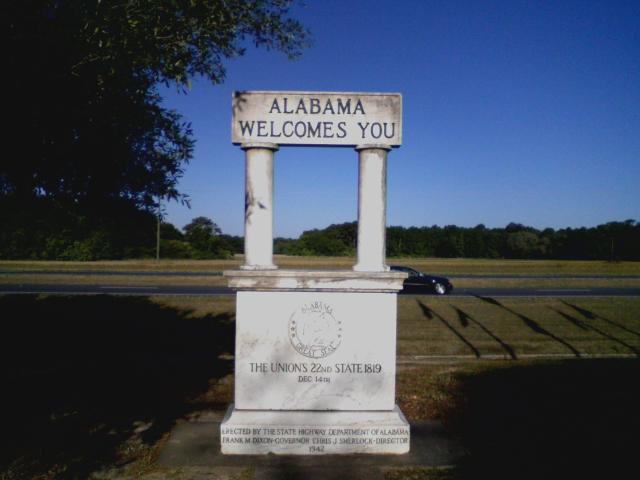 Hello, Alabama!
Thursday, April 29, 2010 Sal's Update - Day 19
This morning I started walking at 5:00 am. I walked until 11:00 am, and decided to stop for an hour or so at a gas station to get something to drink and to rest. I began walking towards the town Ozark, AL. I was walking through downtown Ozark looking for the library. The library was small and nice. I spent about an hour doing mostly research. After the library, I continued walking through downtown. It began raining, so I stopped in one of the local stores for about an hour. While I was in Ozark, I looked for the local newspaper. While I was walking on US Hwy. 231, a man in a truck stopped to see if I needed anything. It turns out that he was the son of the local newspaper owner. His name was Phillip Adams. The Southern Star newspaper happens to be one of the oldest newspapers in the Southeast. It was founded before the Civil War. Phillip interviewed me and took photos. I also managed to take some photos of him too. We chatted and exchanged stories for about 30 minutes. After our chat, I continued on US Hwy. 231 heading north. Today I walked 28 miles and gained 2 blisters.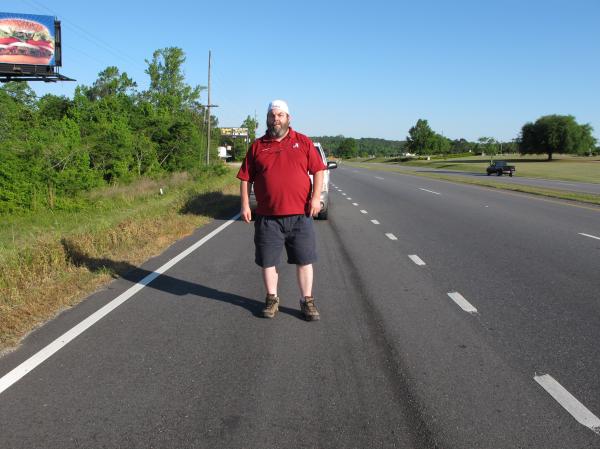 Phillip Adams - Southern Star newspaper, Ozark, AL
Friday, April 30, 2010 Sal's Update - Day 20
This morning, I got up at 5:00 am. I began heading towards Troy, AL. There was a long stretch of nothing, with the exception of a few gas stations. I stopped for the day at 9:00 pm. I walked a total of 26 miles today.
Saturday, May 1, 2010 Sal's Update - Day 21
After a good night's sleep, I got up at 5:00 am and continued walking toward Troy, AL. I got to the outskirts of Troy around 11:00 am, and decided to stop by the Huddle House where I had French Toast and Eggs for breakfast. I stayed for 2 hours and chatted with quite a few people. The people were nice and the food was great. While there, I met John and Rosemarie Wright from Hudson, FL, where they have a home. Most of the year, they live in North Dakota. I talked with them for quite a while enjoying a nice conversation and a cup of coffee. They also gave me a $10.00 donation towards the hike. Thank you!
After the Huddle House, I walked into town to look for the library. The library was located near Troy University. I spent about 2 hours there, and also talked with several people, enjoying good conversation. After I left the library, I spent about 2 hours walking around town and checking things out. On the way out of town, I stopped by the Burger King and grabbed a few value menu sandwiches. There was a light rainfall while I headed out of town, but nothing major. I continued heading north of Troy for another 10-12 miles. Total miles for the day was 32. My feet were very sore. I stopped walking at 9:00 pm, and camped outside of town, about 12 miles out.
Sunday, May 2, 2010 Sal's Update - Day 22
This morning I got up at 5:00 am, and began walking towards Montgomery, AL. My feet were very sore this morning and it took me about 1/2 mile or so of walking for the pain to subside somewhat. There wasn't much interesting on today's walk...just a closed flea market and a few gas stations. I also didn't meet many people. I did stop by a few of the gas stations, but it was a rather ordinary day. After walking 27 miles today, I stopped for the day at 9:00 pm.
Monday, May 3, 2010 Sal's Update - Day 23 - Tuesday, May 11, 2010 - Day 31 - NOTE: Update is coming!!
Wednesday, May 12, 2010 Sal's Update - Day 32
This morning I got up at 6 am and got packed up. I walked for about 10 miles and stopped for a rest. Not much interesting happened on the walk so far today. After my break, I started to walk to downtown Shreveport, LA. I got into town around 3:00 pm, so I decided to head to the local YMCA to take a shower, and relax for a bit. The YMCA was in an old building and has been there for a very long time. It was a nice facility, and reminded me of the YMCA in my native hometown of Quincy, MA. After I was finished at the YMCA, I decided to head to the local library and catch up with my email and more research. While at the library, I spoke with several people and told them what I was doing, gave them a card and asked for their feedback. I left the library and headed to the Shreveport Times newspaper and found out they were closed. As I was writing down some information about me and my walk, I met a person who happened to work there. We chatted for a while and he said he would give the note to the newspaper. So I was on my way again; I walked for a while and came across a bar called Bears Oyster House off US Hwy. 80 in Shreveport, LA. I met and began talking with a man named Keith Haydel. We talked for a while and he bought me a drink. He mentioned to the band my name and what I was doing. I took a few photos of the band. After a little while, a young lady named Kristen came up to me to buy me a drink and thank me for what I was doing. She told me she had to go get a biopsy on a lump on her breast. Kristen said that her family has a history of breast cancer and that she wanted to say thank you for what I was doing. I stayed there for a little longer and then started to walk to find a place to sleep. I found a place on the side of the road that had a table so I just got out my air mattress and went to sleep.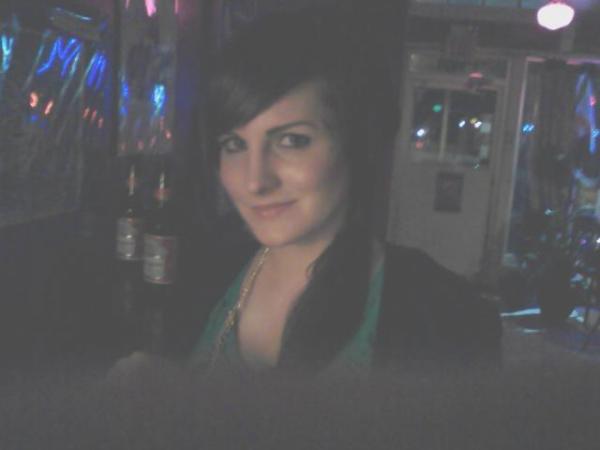 Kristen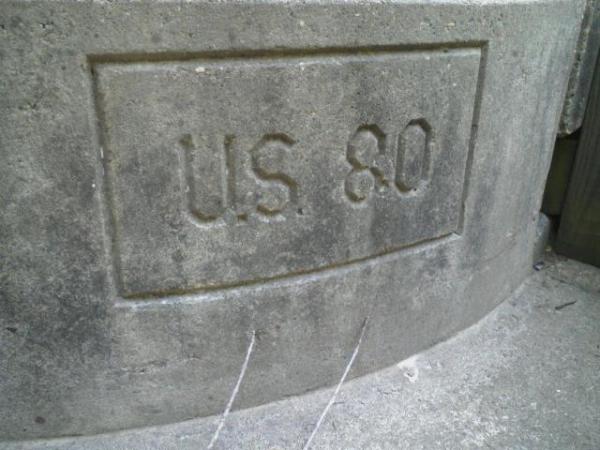 US Highway 80 Marker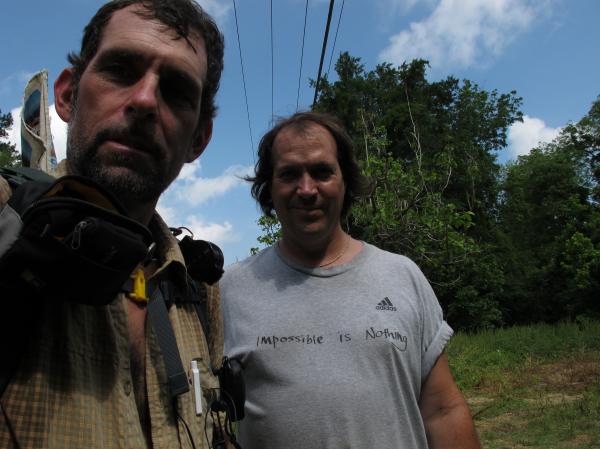 Sal & Larry Orea
Thursday, May 13, 2010 Sal's Update - Day 33
I got up at 5 am this morning, packed up and was on the road at 5:30 am. As I walked further down the road, I got close to the Shreveport Airport. I stopped by the local Waffle House. The waitress, Dawn, was a sweetheart. It was relaxing inside the restaurant and it was a nice place to stop for breakfast. I had eggs, bacon and coffee. Dawn gave me a waffle, and also an omelet. I was soon on my way again as I walked down US Hwy. 80. I was going to stop in at Wal-Mart to check on something and get a little. The store #448 would not let me in with my backpack on so I asked for the store number and wrote all the info down and said goodbye and thank you. After I left there, I walked for a while and headed to the library. There, I met Cathy, who is the librarian, along with her friend Missy. We talked for a while. I managed to get online for a bit, before I had to get going to the next town. I left there, and walked about 4 miles. I stopped at a truck stop to get cleaned up. I was having some trouble with chafing. I tried to get going again, but decided that I had to wait a while for the sore area to cool off. I walked over to the Flying J truck stop to get my hair cut and met Melissa. She cut my hair for free. She mentioned that she would send me some links to check out. After talking for a while, I went to sit in the TV room for the night. I got to talk to a lot of truck drivers. I fell asleep around 10:00 pm, but had a difficult time sleeping all night.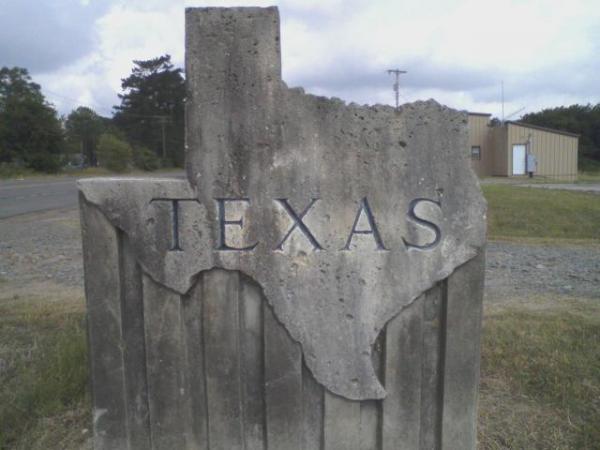 Friday, May 14, 2010 Sal's Update - Day 34
I woke up at 6:00 am to get ready to get on the road again. I started walking down US Hwy. 80, and as I was walking, I was stopped by Mandy Sharbono who was on her way to Texas. We talked for a bit about how her family has problems with cancer, as well as other problems. We also talked about her kids and such. I told her about my story and after chatting for a while, I headed on my way. She also donated $6.00 for the walk. I continued on my way, and came across Gator Land, on the Texas-Louisiana border. So I stopped for a drink and met some kids who were on a field trip. They needed some money for feed for the gators, so I gave them $5.00 and said goodbye. As I was leaving, I gave out some cards, and continued walking towards Texas. Soon, I came across a man named Larry Orea, who was busy cleaning up some road kill in front of his house. We chatted for a while, talking about all the movie stars he met and the movies that he was in as an extra. I gave him my card while we chatted for a little longer. We took photos of each other and said goodbye. I continued walking for a bit and reached the town of Waskom, which is just inside the border of Texas. I headed to the local library for a while. As I was heading out of town, I ran into several people and handed them my card, and was again on my way. While I was walking down the road, I found a place that would be a good place to camp for the night. I set up my tent and got some sleep.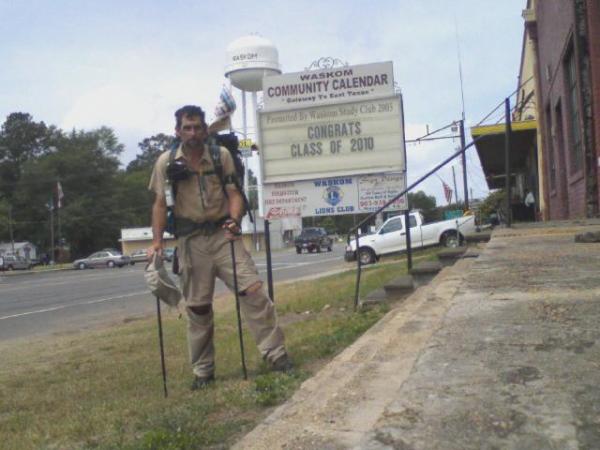 Sal - Waskom, TX
Saturday, May 15, 2010 Sal's Update - Day 35
Up at about 5 am and started to pick up to get going. I started to walk towards the town of Marshall, TX. I stopped by a McDonalds for a $1.00 breakfast burrito. Once I got to Marshall, I was heading toward the library when I walked by the St. Joseph Catholic Church. I had a thought to stop, but decided not to. As I was walking, about 4 blocks away from the church, I had a feeling that made me turn around and walk back. When I got to the church, the front doors where locked, so I went to the side door and it was open. I went inside to pray. I was there for about 1 hour. When I was done, I made time to take some photos of the inside. It was a really nice church. I had talked with a lady inside and she told me I should go to the fellowship hall to see if they had something there for me to drink. I told her maybe later. Once I left the church, and walked up the road to the library, I had that same feeling again, and it told me to go back to the church, so I did. When I walked back there were some people in the hall there. I began talking with Nancy, Penny and Susan. They were in charge of setting up a birthday party for the Father. I asked them for some water, and also told them what I was doing. They told me to sit down, and offered me some eggs and coffee. After I ate, I gave them a hand in getting the hall set up for the party. Nancy told me to try to make on Sunday at 6:30 pm for the party. I told her I would try to get back. With that I said goodbye, and said a prayer. After I left the church, I walked to the library. I was there for a short time, but I could not handle the way it was set up: the screen was in the desk and I kept falling asleep. I decided that I'd had enough, so I got up and headed into town to see the wagon run in the center of town. I walked around and took a lot of photos. I also talked with a lot of people for a while. As I was walking up the center of Main Street, I came across a store that was open. So I stopped into the old department store. Apparently, it used to be the Joe Wishman Building, and now is called the Central Parks Shops. It consists of 3 floors of shops, and also has a restaurant. I decided to have lunch there, and met the owners, Rob and Debra Sorich. I also met the cooks, Corry and Rachel Wise. They were really nice. I went to get some coffee, but they told me it would be free. They also treated me to lunch as well. I also met Igor there, a tattoo artist Massachusetts. We talked for a while, until they closed. When it was time to go, Corry asked me if I wanted to stay with them for the night. How generous! It was great because I really needed to take a shower and get my laundry done too. So I said yes to the invitation, and we headed to their house. Once we got there, we talked for a little, and then I took my shower. After that, we talked for a bit longer. They were drinking beer which they offered me, but I said no and pretty much just relaxed the rest of the night. After watching a movie made in MA about the mob and starring Jack Nicholson, I got to bed at 11:30. That was about it. Good Night.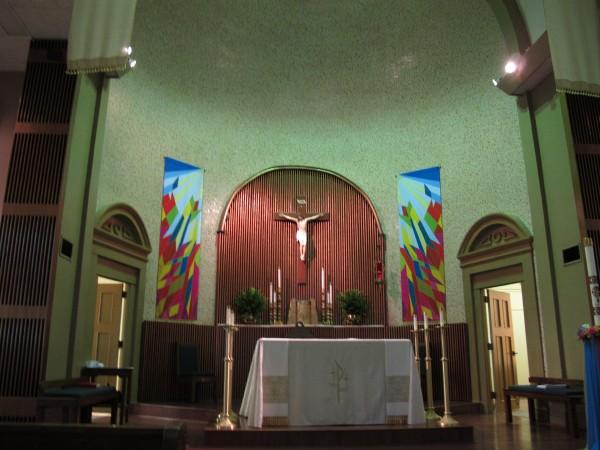 St. Joseph Catholic Church - Marshall, TX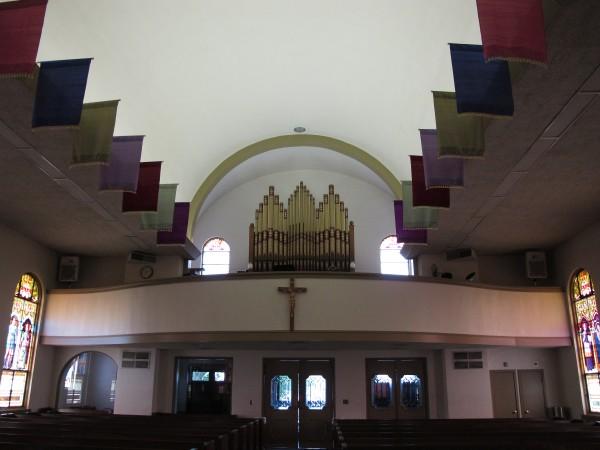 St. Joseph Catholic Church - Marshall, TX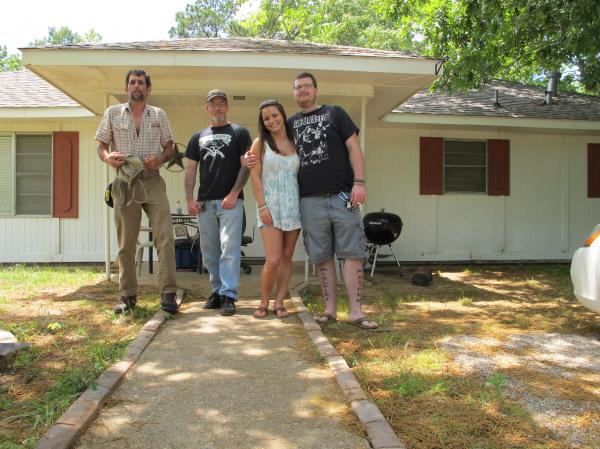 Sal, Igor, & Corry and Rachel Wise Marshall, TX